第70期 小运动不是什么(2011年)
学术主持:刘鼎 卢迎华 苏伟
主题:《全球艺术与美术馆》  《他们》杂志  《概念商店》  博尔赫斯艺术中心   家作坊和《穿》 公司   哥本哈根自由大学 联合国广场   张培力的新媒体教学实践
新作:曾梵志 谢墨凛 陈勇劲  马浩然
Issue No. 70(2011)
Theme: What "Little Movements" Is Not
Academic Host: Liu Ding, Lu Yinghua, Su Wei
A.T: Global Art and the Museum, They, Concept Store, Borges Libreria Institute For Art, Homeshop and "Wear", Company, Copenhagen Free University, Unitednationsplaza, Zhang Peili's Educational Practice in New Media ART
A.N: Zeng Fanzhi, Xie Molin, Chen Yongjing, Ma Haoran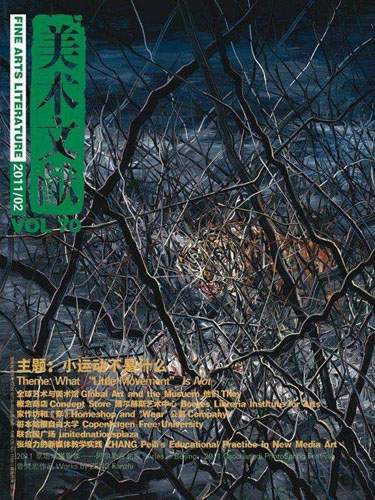 "小运动"不是什么
学术主持:刘鼎、卢迎华、苏伟
"小运动"是我们从2010年来开始的一项研究课题的名字。它与任何社会运动没有关系。这个命名来自于对我们所感兴趣的研究对象的感受。到目前为止从大家对该项目的反馈之中,我们也认识到有机会澄清和讨论"小运动"不是什么与解释"小运动"是什么可能是同样重要的。"小运动"和规模无关。在"小运动"中所指的"小"不是相对于"大"提出来的,而是描述一种内在化的和反思性的工作方式。被纳入"小运动"研究范围的是我们在平时的旅行和工作积累中所接触到的、目光所及的艺术实践。这些实践总是建立在具体工作中对于具体语境的真切体会之上,在工作中触摸和认识系统中的边界,并试图通过思考、言论、研究和实践拓展这些边界,或者是拓展对于边界的认识。在这样的工作中,实践者们往往通过自我的建设和自我的实践来改变我们所认识的现实的形态。"小运动"与大小无关,却与基础的工作密切关联,没有最具体的工作、体验和思考,就不可能有"小运动"中所研究的项目实践者们在本质工作上所做出的努力。
"小运动"不是社会运动,也没有具体的运动纲领,但"小运动"有求变的诉求,并在此诉求的推动下,在艺术和思想生产的内部进行自我认识和自我建设。"小运动"中的实践者一直在寻找自我运动的内在动力,它描述的是一种进行中的工作状态和一种由于时刻自我审视和自我塑造而持续拥有的活力。
"小运动"的研究和展览计划不是一次历史性的回顾,尽管它涉及80年代、90年代、2000年后的文学艺术实践。它也不是全球性的归纳,尽管它也涉及了来自美国、欧洲的数个实践案例。我们在这些跨越时间、地域和艺术界的实践方式中看到了一种平行性,这种平行性在于,它们强调的都不是无限扩大的外延,而是不断深化的内部工作。虽然有的实践已经终止,有的实践甚至还未有更广泛的传播,有的实践虽然一再被作为历史节点被提及,但其对于艺术本体的重要性还远远尚未被充分认识和谈论。"小运动"中的实践有的基于对于某一历史时刻的感知和对于艺术系统的塑造所深怀的理想,有的基于现实的阻碍和实践者本身意识的前瞻性与时机的错位,有的基于对于所处语境的不满足并希望有所突破。无论它们是源于何种前提和语境,它们的发生和存在都已经或即将在不远的将来对于我们已有的经验提出新见解和开辟新可能。
"小运动"研究计划的开展是通过组织一系列的群论,与发起者、实践者、亲历者、旁观者和批评者围绕每个实践的背景、来龙去脉、影响以及它们背后的艺术理想展开深入的讨论。一方面从实践者和经历者的叙述中更细致地了解每个项目的内容和经过,一方面也从讨论中更深入地理解每个项目实践的语境、希望解决的难题和仍然悬而未决的问题。这些问题并不是这些实践者独自拥有的,而是我们所共同面对的挑战,也给我们提供了更进一步认识我们所面临的语境的渠道。这些实践者遍布各地,我们也尽量去到实践的现场和基地,在相关的场所举行各个小规模的讨论会。
我们也将在展览开幕之前发行《小运动——当代艺术中的自我实践》的出版物,这是一本介于展览画册和理论文集之间的出版物。每个章节除了包括与各个实践相关的文字、图片和实践者的个人资料以外,我们还选编了相关课题的一些批评文本,这些理论讨论所涉及的问题正是"小运动"的实践所关注、触及和希望解决的问题。这些理论的引用和呈现不是为了界定或者是阐释实践本身,它们的平行思考为"小运动"的实践提供了一个理论的语境,也是更好地理解这些实践的基础。这些理论文本并不是为了这些实践而特别撰写的,是我们在研究的过程中所接触到的文本,它们的出现不是偶然的,甚至可以说是必然的,因为它们所感受到和思考的问题与艺术的实践者们是一致的,它们是艺术思考中的实践者,只不过它们的实践是用文字、语言,而不是创作或行动来进行传达。从这个意义上讲,这些文本和艺术实践一样是一种开拓性的创作。在这个过程中,很多与"小运动"所研究的实践相关和不相关的艺术家、批评家、策展人和学者都加入到了讨论之中,我们也邀请很多艺术家为《小运动——当代艺术中的自我实践》撰稿,或者描述自我的实践,或者描述他者的实践,或者从理论的角度来认识"小运动"中研究的实践所昭示的问题,参与到"小运动"的思想运动和思想生产之中来。
本期《美术文献》的"小运动"专题呈现了该研究计划中的九个案例,这仅仅是"小运动"的一个局部,更完整的面貌和研究成果将以展览的形式和大家分享。展览将于2011年9月10号在深圳OCT当代艺术中心展出。这将会是一个结合文献和作品的展览,既有与每个实践相关的文本、图片和素材,也将呈现他们的创作成果。
What "Little Movements" Is Not
Academic Hosts: LIU Ding  Carol LU Yinghua  SU Wei
"Little Movements" is the title of a research project we initiated 2010. It has nothing to do with any social movement. The title is a summary of our overall impression of the subject of our research. Based on the responses we've received towards "Little Movements" so far, we understand that having the possibility to explain and discuss what "Little Movements" is not is just as important as describing what "Little Movements" could be. "Little Movements" has nothing to do with scale. The word "little" in the title is not meant as the opposite of "large", but rather as an adjective for an introspective and contemplative way of working. The scope of the "Little Movements" research project covers artistic practices we've come in contact with and read about in our travels and practice. These artistic practices base themselves on specific experiences and responses to specific situations through their groundwork. In their practice, they try to feel and understand the boundaries of the system and extend them through their thinking, speech, research and practice. In their work, these practitioners tend to affect our understanding of the state of reality through self-construction and self-practice. "Little Movements" is not about big or small but about the most fundamental level of work. Without engaging in the most specific work, experience and thought, there wouldn't be any of the efforts made on the most essential level by the practitioners of the projects featured in "Little Movements".
"Little Movements" is not a social movement, and it has no guiding principles, but "Little Movements" does seek change. Driven by this pursuit, it engages in self-recognition and self-construction within the production of art and ideas. The practitioners in "Little Movements" have persistently sought internal momentum for their own movements. It describes a state of work in progress, a continued vitality drawn from constant self-examination and self-reshaping.
The research and exhibition plan of "Little Movements" is not a historical retrospective, though it does touch on literary and artistic practices from the 80s, 90s and 2000s. Nor is it a global assessment, though it does contain numerous practical cases from the United States and Europe. In these practices that cross time, regions and art scenes, we see parallelism, and that parallelism rests in the fact that these practices are not stressing limitless expansion but constantly deepening internal work. Some of these practices have already ceased, some haven't been spread very far, and some have been mentioned before as links in history, but overall, their importance to art in itself has yet to be adequately recognized or discussed. Some of the practices in "Little Movements" are based on perceptions of certain moments in history and deeply held ideals about the shaping of the art system; some are based on dissatisfaction with the context they are in and hope for a breakthrough. Regardless of their conditions and contexts of origin, their emergence and existence, they have or soon will provide fresh insight into our existing experience and open up new possibilities.
The "Little Movements" research plan entails the organization of in-depth group discussions with initiators, practitioners, participants, observers and critics about the backgrounds, origins, developments, influences and artistic ideals behind these practices. Through the accounts of the practitioners and participants, we will gain a detailed understanding of the contents and experiences of each project, while also gaining a detailed understanding of the context of each project, the problems it hoped to solve and the problems that have yet to be solved. These problems are not unique to these particular practitioners. They are challenges that we all face, and they provide a channel for recognizing the context we face. These practitioners are scattered across the world, and we will do our best to visit the scenes and bases for these practices, and hold small discussions at each site.
Before the opening of the exhibition, we will also release the publication Little Movements – Self Practice in Contemporary Art. This publication lies somewhere between an exhibition catalogue and a collection of critical essays. Each chapter will include texts, pictures and biographical details related to each practice, and we have also selected critical essays on related themes. These essays touch on the very issues that the practices in "Little Movements" focus on, touch on and hope to resolve. The use of these critical essays is not to define or explain the practices themselves; their parallel thinking will provide theoretical context for the practices in "Little Movements" and a foundation for better understanding of these practices. These essays are not written especially for these practices. Instead, they are writings that we have come across in the process of our research. Their emergence is not coincidental, but, one could even venture to say, inevitable, because their perceptions and the questions they ponder are in keeping with those of the practitioners. The writers of these essays are practitioners of artistic thought, except that their practices are carried out in words and writing, rather than creations and actions. In this sense, these writings and artistic practices are trailblazing creations in the same manner. Throughout this process, many artists, critics, curators and academics connected or unconnected to "Little Movements" have joined in the discussion, and we have invited many artists to pen essays for Little Movements  – Possibilities of Self Practice in Art, either to describe their own practices, to describe the practices of others, or to approach the issues raised by the research of "Little Movements" from a theoretical perspective and join into the movement and production of ideas that is "Little Movements."
The special report on "Little Movements" in this edition of Fine Art Literature Magazine presents nine cases from this research project. This is only a part of "Little Movements." A more complete presentation of the research results will be shared in the form of an exhibition. This exhibition will be hosted by OCT Contemporary Art Terminal in Shenzhen as an OCAT Youth Project, to be held from September 10 to November 10, 2011. This exhibition will be a combination of documents and artworks, presenting writings, images and materials related to each case as well as the creative results of their practices.
Translated from Chinese to English by Jeff Crosby.