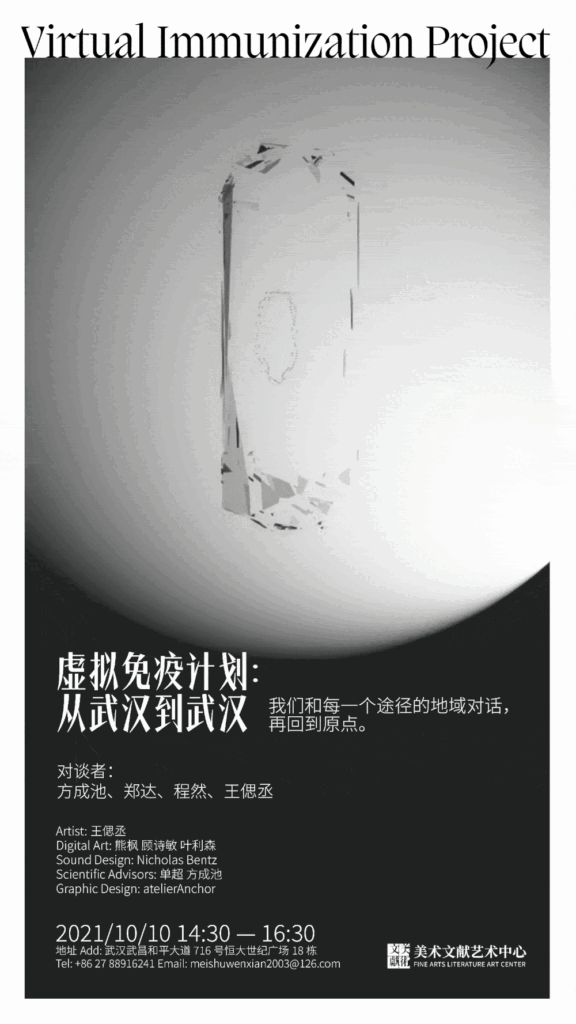 Art Projects | Virtual Immunization Project
Duration:2021.10.10 14:30—16:30
Location:Fine Arts Literature Art Center
Curator:Cheng Ran
Producer:Liu Ming

The "Virtual Immunization Project - From Wuhan to Wuhan" art project will take place on October 10, 2021 at the Fine Arts Documentation Center, and will be divided into two sessions: a cross-border conversation and a work experience. We invite project initiator Wang Yixing Cheng, along with scientific advisor and biologist Fang Chengchi, artist Zheng Da, and curator Cheng Ran to discuss the current state of art in Wuhan in the post-epidemic era and the development of science and art. The digital artwork "Virtual Immunization Project" will be presented and a 3D modeling game will be provided for the audience to experience.
In early 2021, Wang Yixing Cheng invited Dr. Shan Chao from Wuhan Institute of Virus Research, Chinese Academy of Sciences, Dr. Fang Chengchi from Institute of Aquatic Biology, Chinese Academy of Sciences, and Xiong Feng, Nick Bentz, Gu Shimin, and Ye Lixen to create the digital artwork "Virtual Immunization Project". Inspired by the biological concept of "co-evolution," the work is an artistic translation of the structure of biological organisms such as cells, neo-coronaviruses and mRNA vaccines, and the means of vaccine preparation. As the initiator of the project, Wang Yixing Cheng has spent the past year in Wuhan-Shanghai-New York-Shanghai, where he has been isolated for long periods of time and has begun to think about the connection between the individual and society, and he is trying to give a voice to society through his work. The artwork will also try to rely on the NFT blockchain platform for sale, and the proceeds will be donated to charity projects. The art project "Virtual Immunization Project" has been touring around and inviting local guests to talk about different topics (Times Museum, 2021.8.20, Chengdu; UCCA Edge, 2021.9.19, Shanghai...), and the science and public education function is considered an important part of this project by Wang Yixing Cheng. From Wuhan to Wuhan, we are in dialogue with each pathway of the region and back again.
Dynamic Model
Work Scenes
Fang Chengchi, a biologist, was born in Wuhan, Hubei, China, in 1984. He graduated from the Institute of Aquatic Biology, Chinese Academy of Sciences, Key Laboratory of Aquatic Biodiversity and Conservation; University of Chicago, Department of Ecology and Evolution, Visiting Scholar; Huazhong Agricultural University, College of Animal Science and Technology - School of Animal Medicine, Postdoctoral Fellow; Institute of Aquatic Biology, Chinese Academy of Sciences, Aquatic Biology, PhD; Wuhan University, College of Life Sciences B.S., Wuhan University, College of Life Sciences. His main research interests include molecular biology, functional genomics, transcriptome, metabolome, histone modification, Chip-seq, Clip-seq, 3D genomics, and other methods to analyze the origin, evolution and function of genes. He has been the chair of the National Natural Science Foundation of China (NSFC) Young Scientist Program, and his papers have been widely published in Epigenomics, DNA Res, Cells and other important academic journals.

Zheng Da, artist, born in 1979 in Enshi, Hubei Province, graduated from Wuhan University of Technology, founder of Low Tech Art Lab, winner of "The 2017 Lumen Prize" interactive art award in the UK. Winner of "The 3rd Wang Style Contour Award 2018". He is a visiting scholar at the Department of Art, University of British Columbia (UBC) and a CPI Fellow in Seoul, Korea. His work focuses on cross-media interactive art between art and science, and his creative trajectory focuses on the exploration and practice of the intersection of real and virtual worlds, including game art, interactive art, mechanical installation, and media theater. He founded the "Low Tech Art Lab", which focuses on the fusion of current media culture and interdisciplinarity, art experiments based on electronic virtual environments, exploring the interaction of light and motion, the algorithmic aesthetics of machine vision systems, and the perceptual systems of computable media installation art.

Cheng Ran, curator, born in 1986 in Wuhan, Hubei Province, graduated from Hubei Academy of Fine Arts and is the founder of RS_PROJECTS, a freelance curatorial group founded by Cheng Ran and Shen Qianshi in 2013 for the Wuhan region, which currently focuses on the contemporary art ecological compartmentalization between the region and different cities. RS_PROJECTS does not set up traditional commercial spaces similar to those of other institutions, but mainly selects local venues in Wuhan based on the actual needs of the experimental projects under planning.

Wang Sicheng, an artist born in Wuhan in 1992, graduated from Maryland Institute College of Art and has worked and lived in Wuhan, New York and Shanghai. His artistic practice involves painting, installation, performance and new media. Through his poetic expression of different media, the artist expresses his elusive and fluid experience and understanding of life, using his artworks to discuss the personal, cultural, and historical connections between his homeland and other places, while also attempting to show how the dynamic and changing society in which he lives shapes him.
总策划:王偲丞
数字技术:熊枫 (建筑师,虚拟建模师,本科毕业于武汉大学城市设计学院,硕士毕业于米兰理工建筑与城市规划学院);顾诗敏(技术艺术家/游戏设计师,研究生毕业与纽约大学整合数字媒体专业);叶利森(三维动态设计师,本科毕业于中国传媒大学数字媒体艺术专业)
声音:Nicholas Bentz(作曲家,小提琴演奏家,就读于布朗大学音乐与多媒体作曲系博士项目,USC Thornton School of Music,作曲研究生;Peabody Conservatory, 约翰霍普金斯大学,小提琴演奏研究生,作曲和小提琴演奏学士学位)
科学顾问:单超(博士,研究员。现任中国科学院武汉病毒所虫媒病毒疾病和疫苗学科组长);方成池(毕业和任职于中国科学院水生生物研究所,水生生物多样性与保护重点实验室)