Shen Qin · 2023
Duration:2023.6.6 – 7.29
Location:Fine Arts Literature Art Center
Curators:Ji Shaofeng
Producer:Liu Ming

"Shen Qin · 2023" was launched on June 6, 2023 at Fine Arts Literature Art Center, featuring Shen Qin's new ink paintings. Shen Qin's image world is always filled with a kind of world character, pure, quiet, and lonely character. The gorgeous mind of the viewer returns to plain, and the anxious survival experience returns to calm.
Exhibition Site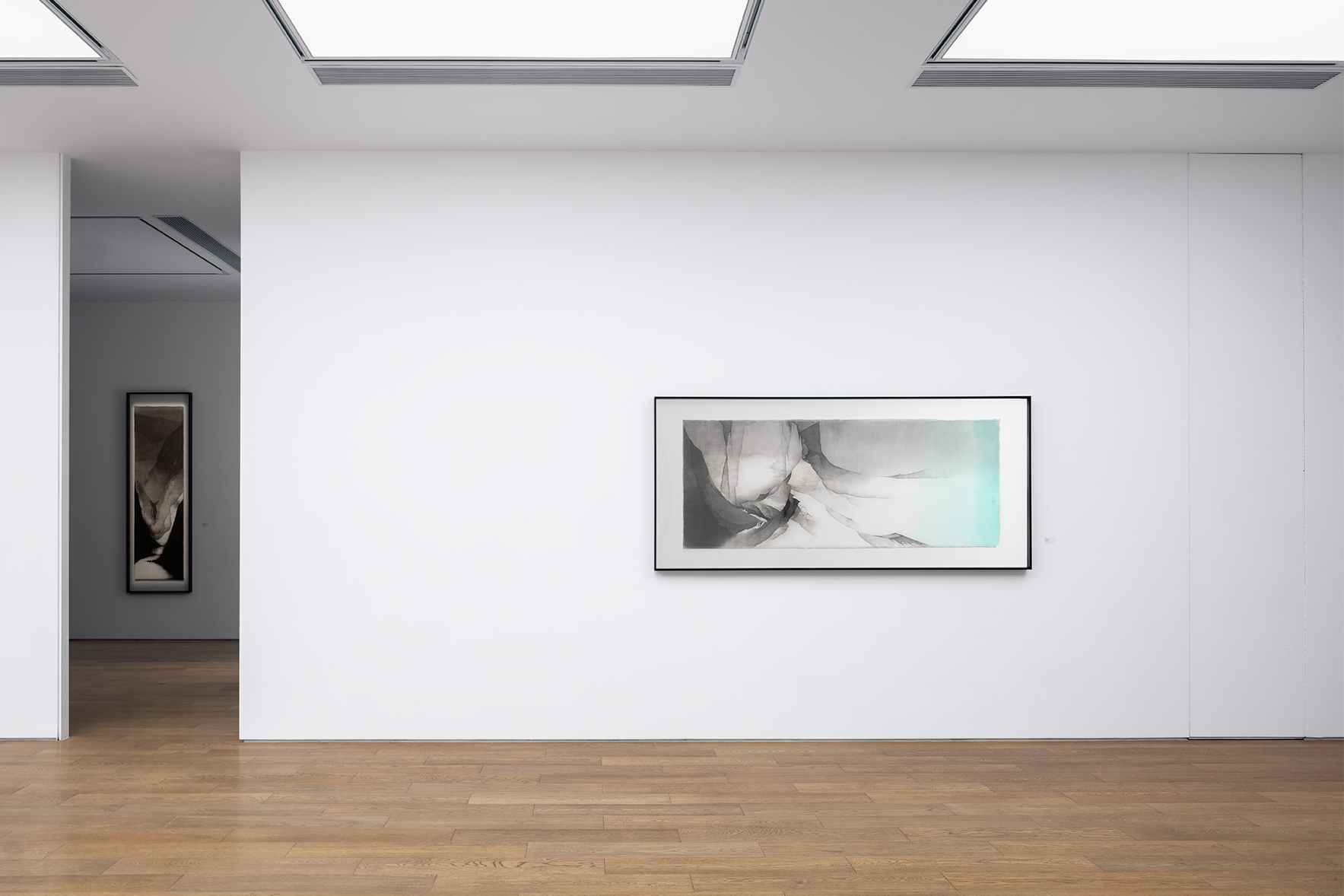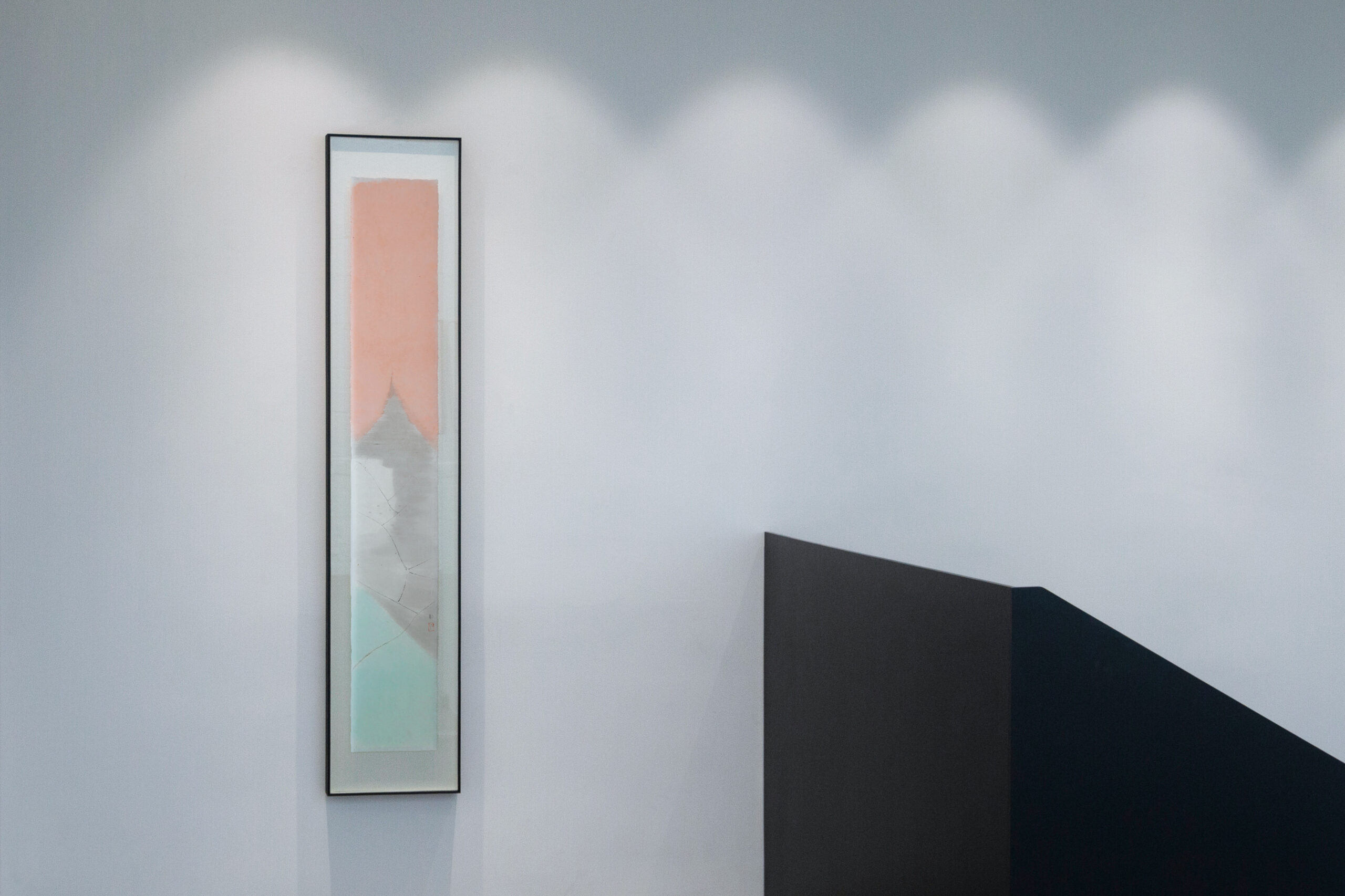 Partial exhibits
After "Following His Own Path"
Re-reading Shen Qin's paintings
Ji Shaofeng
The @Wuhan2019 exhibition of Shen Qin's "Following His Own Path" has become a fond memory. At that time, there were several options for the title of the exhibition, but in the end, the exhibition took its name from the Chinese brush writing of "Following His Own Path" by playwright Ms. Xie Lihong. This exhibition indeed showed Shen Qin's loneliness and extraordinariness, which became the peak of poetic perfection of the exhibition. In the following years, it was difficult to see the exhibition scenes of that time again. When the exhibition was withdrawn, the sudden fracture of the work seemed to cast a shadow again, foretelling some kind of inauspiciousness. As the break in the work foretold, the epidemic ravaged the world, interactions melted down, and the exhibition was terminated. In 2023, the epidemic dissipated. Fine Arts Literature Art Center welcomes Shen Qin-2023, a new reflection, a new expression, and a new image after "Following His Own Path", which foretells a kind of openness, auspiciousness, spaciousness, and broadness.
Shen Qin in "One Will, One Way", who seems to be alone in his images, is not alone in reality. In recent years, Shen Qin has been invited to various exhibitions such as the Biennale , and various major exhibitions have featured the solitary image that is deeply rooted in people's hearts and widely loved by readers, which is lonely and unusual, intriguing and thought-provoking.
Continuous cultivation and perseverance are the important characteristics of Shen Qin's art. Without the continuous deep plowing in the field of contemporary art, Shen Qin's distinction would not have been possible today. This perseverance was facing the loneliness and bewilderment of life. In 1986, he moved from Nanjing to Shijiazhuang, a talented man from delicately beautiful south, and it was difficult for him to blend with the ruggedness of northern culture. Not only did he have no friends in art, but he also lacked drinking friends in life. When he was most lonely, he would take wine and force his wife's boiler-burning worker friends to drink with him. So much so that due to the lack of verbal interactions with friends, he became a bit clumsy. Later, Shen Qin's opening ceremony thank-you speech was always no more than two words, "thank you" - is this related to this experience? In fact, Shen Qin is an enthusiastic person who is very eager to communicate, it seems too poetic to use chivalrous and tender, but he is fierce and proud, with a kind of pride inside and a boldness and determination that will never be shown to others until a work takes shape. Shen Qin and I lived in the same neighborhood, but I had no contact with him for more than 20 years until 2009 when I was introduced by Yang Xiaoyan, I was able to get to know him. I was overwhelmed and infiltrated by his stunning visual images and the purity behind his visual expressions, which is a kind of elegant art of high purity. Since then, Shen Qin has appeared in various exhibitions like a godsend. Today's Shen Qin no longer needs to be embellished, because the reader already knows more about him than the writer.
The second characteristic of Shen Qin's art is its Chineseness. The most hotly debated thing today is to adhere to the Chinese cultural position, insist on combining with Chinese traditional culture, and follow fundamental principles and break new ground, which is the profound connotation manifested by Shen Qin's visual image expression. Shen Qin is fond of ink and wash image expression. In fact, ink and wash can best represent the Chinese cultural root as a symbolic ritual of Chinese traditional culture, being the most Chinese. Shen Qin uses Chinese traditional media material to express a contemporary Chinese's sincere thinking and passionate narration of contemporary society and artistic life. He speaks out his concept, position and method, his attitude and passion and his ups and downs of life. When he is disillusioned, he is lonely and bewildered, and when he is pleased, he is still bent on his own. Instead, Shen Qin's loneliness and bewilderment can win the praise of many friends in life and art. This is indeed the subtlety and uniqueness of Shen Qin's visual images in dealing with people.
The third characteristic of Shen Qin's art is his sense of painting. His hand, brushwork, ink and water are all very exciting and fascinating to the reader. Readers are infected by his simple, clean and broad visual images, and they are also attracted by the purity, innocence and pure emotion in his visual images. There is no subject matter, no narrative, no superfluous figures, but the loneliness and isolation of the visual images from the inside out is indeed a hard to reach. The out-of-this-world sentiment, the indifferent state of mind, and apathetic mental picture cannot be experienced by those who have not experienced transcendent solitude. These artistic realms come to the reader quietly through the reverberation of the brush, ink, paper and water, and the emotional experience and passion that comes from the sense of painting is indeed unforgettable to everyone who approaches the world of his images.
The fourth characteristic of Shen Qin's art is its contemporaneity. Since the '85 New Wave, Shen Qin has always been in the middle of the art trend. He did not choose the more avant-garde media such as installation and conceptualization. Instead, he has been exploring the transformation of ink and wash into contemporary expression. Ink painting is a Chinese tradition, and how to innovatively develop and creatively transform ink and wash while moving towards modernity is the current problem. It is obvious that Shen Qin not only has a deep knowledge and profound grasp of traditional culture, but also understands that traditional ink and wash must adapt to the contemporary society and harmonize with contemporary civilization. Only by integrating into the contemporary global cultural context can the art of ink and wash, as a symbol of agrarian civilization, win a broad space for the contemporary expression of ink and wash art. It is obvious that Shen Qin is well aware of this meaning. Shen Qin in art and life also answers the saying:
There is a deeper meaning in this, I want to argue but have forgotten to say
Written at Tianjin Art Museum on June 3, 2023
Shen Qin was born in 1958 in Nanjing, Jiangsu Province. He studied in the graduate class of Jiangsu Academy of Chinese Painting from 1978 to 1982. From 1982 to 2018, he was a painter of Jiangsu Provincial Academy of Chinese Painting and a national first-class artist.
Recent Solo Exhibitions:
2023, Shen Qin · 2023, Fine Arts Literature Art Center, Wuhan
2022, Simplicity - Shen Qin Ink Painting Exhibition, Hong Kong
2020, Immitation/Resistance of Song Style: Exhibition of Shen Qin's Artworks, Guangdong Museum of Art, Guangzhou
2019, Shen Qin: Following His Own Path, Hubei Museum of Art, Wuhan
2019, Shen Qin: Documents 1989 - 2019, Fine Arts Literature Art Center, Wuhan
2018, Xuan - Shen Qin Solo Exhibition, UNAC TOKYO, Tokyo
2017, Void Distance: The Space of Shen Qin, Alioth Art Center, Shanghai
2016, 30s: Shen Qin, Art Museum of Nanjing University of the Arts, Nanjing
2016, Hermit - Contemporary Ink Works by Shen Qin, K.Gallery, Chengdu
2015, Yin · Yin · Yin · Ying - Solo Exhibition of Shen Qin, Suzhou Museum, Suzhou
Recent Group Exhibitions:
2023, Starting from the Heart - Chinese Contemporary Art Invitational Exhibition, Yan Museum, Dongguan
2023, The Duality of Nature - The 3rd Xi'an Landscape Exhibition, Cui Zhenkuan Art Museum, Xi'an
2023, Beyond 2003 - 2023, Ming Contemporary Art Museum, Shanghai
2023, Borderless, Yuelai Art Museum, Chongqing
2021, Mountain House of Sliced Stones: Artworks of Shen Qin & Chen Qi, Asia Art Center, Beijing
2019, Shen Qin - Shen Lieyi Duo Exhibitions, Hanyang Art Center, Hangzhou
2018, New Ink Art in China 1978 - 2018, Minsheng Art Museum, Beijing
2016, Shen Qin & Chen Qi: Zero Degree, Asia Art Center, Taipei
2015, Rest on Water and Gargle with Stone – Chinese Contemporary Literati Arts, Asia Art Center, Beijing
2015, Four - Dimensions: Chen Qi · Liang Quan · Shen Qin · Zhu Jianzhong, Alioth Art Center, Shanghai
2015, Art Works by Shen Qin & Chen Qi, Asia Art Center, Beijing
2014, Learning from the East and Learning from the West - Five Contemporary Chinese Ink Paintings Exhibition, Royal Academy of Fine Arts, London
2011, Wind and Moon in the Same Sky - Inoue Has a Calligraphy and Shen Qin Ink Painting Exhibition, Art Museum of Guangzhou Academy of Fine Arts, Guangzhou