Zhang: Deng Wei Solo Exhibition
Duration:2021.9.18-11.27
Location:Fine Arts Literature Art Center
Curator:Bao Dong
"Zhang: Deng Wei Solo Exhibition", curated by Bao Dong, was launched at the Fine Arts Literature Art Center on September 18, 2021. It was Deng Wei's second solo exhibition in Wuhan, displaying his latest painting works until November 27.
Exhibition Site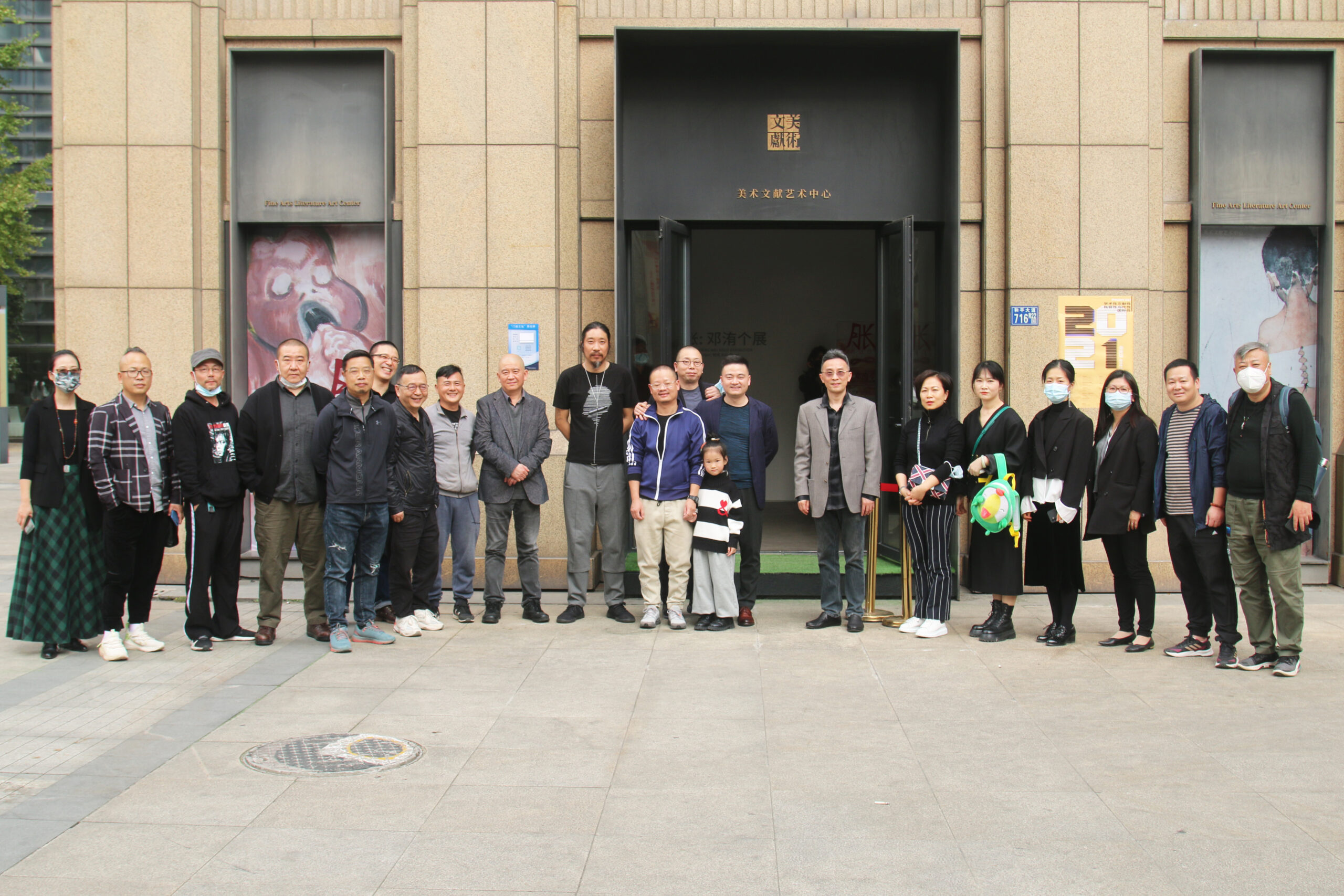 Works
Zhàng:Deng Wei Solo Exhibition
Bao Dong
Deng Wei's works always feel inflated. He uses compositions full of expansion that almost burst the frame of the picture. Deng's canvases also bulged, and it seemingly stuffed with things, whether it is paint, image, story or time, or the desire to fill the canvas. In the exhibition hall, the canvases, that have lost their frames, hang on the walls helplessly, full of indignation after being deflated.
Deng Wei is extremely fond of using red, especially the kind with additional cool white, extravagant, unrestrained, but addictive. There seems to be a trace of earthy smell spreading in it, which perfectly matched his over bleed-line composition. Red and green, is also his favorite pairing, refined and popular, whistling between rustic and urban.
Not to mention the contents and images in his paintings, with no exception, are all ballooning things. When painting people, he paints fat people, asses, breasts, muscles, he draws provocative or awkward poses; when painting objects, he paints watermelons, coconuts these big and round things, or lobster and crab feasts, of course, he also paints bananas, you know.
Deng Wei is desperately trying to stretch the surface of these ballooning things. In addition to the edge of thick and exaggerated lines, he focuses on the volume, especially the description of the extension of the body surface, using short, regular brushstrokes to spread around the entire form before resting. The background of the picture, also related to this, is densely spread around the volume in all directions, turning the entire canvas into a surface area of ups and downs so that Deng Wei can eventually hang them up like a thick blanket.
Deng Wei himself is also like the kind of artist who has to spurt out when suffocating. His paintings have a physiological drive, whether it's Libido or vitality, or just the impulse of children playing pranks. He paints shit, organs, and often uses a kind of Chinese folk wisecracks way to address the subject matter of his work straightforwardly. He also seems eager to be a street fighter, to fight injustices like a hero of the greenwood, so he paints Chengguan (known as city inspector) and vendors; and "Dashing King" Li Zicheng. But again, these rebellions are grotesque in his case, making it impossible to take them seriously.
No matter how intense and rebellious Deng Wei's desire for expression is, he is still a warm and humorous person. He paints rivers and river crabs in his hometown, ordinary people looking at the sunset and the landscape, fat mermaids, unfortunate furry spiders, and street youth version of Journey to the West. Even though he pretends to be a rascal, Deng Wei is a happy and honest people painting.